We have a brand new stall holder that we are excited to introduce…..TWIG.
Founded by Sarah Cheetham who propagates plants and hand makes pots and baskets from recycled cotton and crafts planters from concrete. TWIG will be joining us in October when we will be popping-up at the brilliant community market Mercato Metropolitano.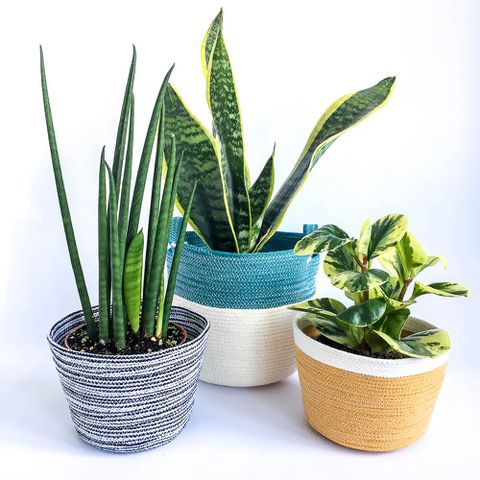 We asked Sarah to tell us a little bit about TWIG…
How did it all start?

I've worked in international conservation for the last 8 years, living in some incredible places from the jungles of Cambodia and Costa Rica to the rainforests of Congo and Papua New Guinea. I witnessed people's connection to the land, nature and each other. Now, all over the world, people are moving towards urban areas, away from nature. Myself included.
When I moved back to the hustle and bustle of London, to counteract the crazy, I created a mini jungle inside my flat. After a tough day this was my calm, happy space; my 'me time'. I was transported back to the rainforest. While surrounded by plants all my worries seem to disappear. I decided to branch out (pun totally intended) and call on my creative side to encourage people to create their own mini jungle at home. This is how Twig was born. Experimenting with plants, designs, materials, ideas - learning and laughing along the way.
Why a houseplant business?
I strongly believe that we are all connected to nature and it plays a big part in our mental health. People are drawn to parks and green spaces. We 'escape' the city. We 'move' or 'retire' to the countryside. Have you ever thought about why that is?
Cities aren't going away any time soon, so we might as well try and make them as green as possible!
What's a normal working day like for Twig?
To be completely honest I don't think there is such a thing as a 'normal' day when you run your own business. It changes all the time which is part of the excitement - it keeps me engaged and on my toes. The one thing I will say is that I've learned so much since Twig was launched in March this year. My days are so varied. In a single day I might transition from a morning of getting my hands dirty making concrete pots in the garden; to a product photoshoot; setting up an ad campaign and ending in sewing a couple of new cotton pots. I love the different aspects of this business, there is always more to learn and discover.
What do you love most about your business?
The plants. Definitely the plants. They're my babies. I'm not ashamed to say I do talk to them regularly. I love my greenhouse, it's like my morning ritual, it sets me up for the day. A close second is the making, getting creative with new ideas, designs and materials and trying to figure out what people like and connecting with them.
What's next for TWIG?
It's still early days. At the moment I'm focusing on growing (whey) the business - which basically means attending as many markets as I physically can, spreading the word and learning what people connect with. Yep, it's going to be a very busy few months. I'm always looking for ways to make Twig more sustainable - I've just launched my new recycled cotton pot collection. In the future, I'd like to tie in my conservation work, potentially partnering with a charity and donating a percentage of the profits to deforestation projects.
Meet Sarah and her lovely plants and pots on Saturday 12th October at Green Rooms Market at Mercato Metropolitano 11am-5pm 42 Newington Causeway, London SE1 6DR